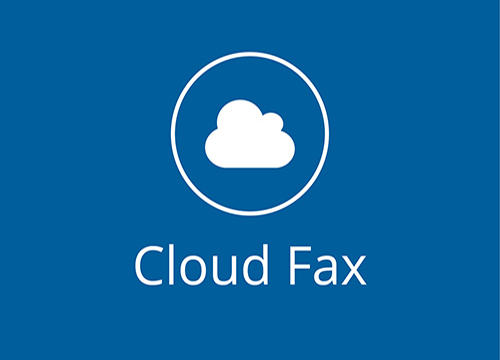 A few decades ago, fax machines roamed freely on the business landscape: and it was good. Actually, it was groundbreaking. The idea of transmitting an exact facsimile of a document to anyone in the world — and within a matter of seconds — was incredible. Indeed, if you build a time machine and head back to circa 1988, you'll be greeted by an orchestra of screeching fax machines (don't worry, it's a screech of joy, not of pain).
Well, here we are about to enter the third decade of the 21st century, and traditional fax machines are few and far between. In fact, some millennial doctors have no idea what to do with this ancient technology. But does this mean faxing is dead? Not at all!
On the contrary, faxing is alive and well. But like many other technologies, it has elevated to the cloud where it is enjoying a dynamic new lease on life. Here are 5 reasons why organizations are embracing cloud faxing — and why yours might want to join them:
1. Enhanced Security
Doctors, pharmacists, lawyers and many other professionals are using cloud faxing because it's more secure. This is because unlike scanning and attaching a document to an email, faxing converts a document into base64 binary at its source, sends it through the Public Switched Telephone Network (PSTN), and then reassembles it at the other end. In addition, faxed documents are stored in a secure off-site data center.
2. Save Space
Office space is expensive — especially in premium locations. A conventional fax machine requires sufficient space to ensure safe and proper usage (and keep supplies nearby, like paper, ink, etc.). This is a non-issue with cloud faxing. It's 100% virtual, and doesn't take up any space.
3. Enhanced Convenience
Cloud faxing is available to employees whenever they want, and from where they're working. They don't have to wait to get back to the office, and they don't have to wait in line or hike across the building. They can simply launch any internet-connected computer, laptop, desktop or smartphone, and send/receive faxes. They can also schedule faxes to be sent at a future date/time, and email faxes to colleagues or any other part (the receiving party doesn't need to have cloud faxing — they will simply get an email with a PDF attachment).  
4. Cost Saving
Conventional fax machines are pricey to buy and maintain, and organizations need a dedicated line or switch — which adds to the cost. On the other hand, cloud faxing is extremely cost effective. There are no usage or long distance fees, nor is there a need to purchase new phone lines or upgrading existing ones.
What's more, organizations with remote workers who need to send/receive faxes don't have to equip them with fax machines. They simply provide them with cloud faxing, and save hundreds or thousands of dollars per year.
5. Detailed Reports
Readers of a certain vintage may recall that generating reports with conventional fax machines was — and remains — manually intensive and quite tedious. Cloud faxing completely changes this for the better. At any time and from anywhere, authorized users (e.g. managers) can simply login to review fax history, usage details, and other data.  
Are you ready to switch to cloud faxing — and reap all of the rewards above? Then call DigitalPhone.io today at (336) 560-4400. Your consultation with us is free.
AT&T and several other companies, including Kickstarter, Vimeo, and Etsy, last week petitioned the Supreme Court to overturn Obama-era internet regulatory rules. Here we go again, again.
AT&T's continuing fight to repeal net-neutrality shares so much in common with the GOP healthcare bill that they may as well start being packaged together. Both of them keep getting shot down, but like any grade-B horror movie-icon from the 1980's, they keep returning in increasingly more stupid forms as shitty sequels to an already terrible premise.
The head of the FCC, Ajit Pai, appears to be struggling to find a way to justify his existence to the people who matter most: internet service providers (ISPs) with deep pockets and very specific expectations for the politicians they support. He's named personally as an advocate for AT&T's latest evil plan to fuck up the internet, in the petition.
While AT&T's lawyers make it perfectly clear the company believes the Obama White House pressured the nation's courts into defying previous court rulings that protected AT&T and its ilk from being regulated like a utility. This regulation prevented ISPs from destroying the internet by letting Comcast and AT&T, for example, meter bandwidth based on company preference.
TNW has published numerous articles in defense of net-neutrality, even beseeching our readers to help tell our politicians that we support a free and open internet. The FCC was overrun with millions of comments that said the same. Overwhelmingly the American people and most companies have shown support for net-neutrality, including (wait for it) AT&T.
We covered AT&T's pointless attempt to stand beside Google, Facebook, and hundreds of other tech companies in the fight for net-neutrality – while it was simultaneously the most vocal voice in trying to have net-neutrality repealed.
The ambiguous nature of the company's have-it-both-ways stance on net-neutrality has it seeking to repeal the Obama-era rules and replace it with new, better rules; the kind that are drafted by AT&T lawyers. Don't be fooled; it's the same bullshit plan with a different angle-of-attack.
AT&T is currently trying to manipulate the conversation by having politician Ajit Pai represent them in lieu of his duty to the American people, a tactic that has failed twice already.
AT&T and its gang of salivating lawyers may never end the ridiculously transparent money-grab of a quest to destroy the free and open internet. But overwhelming support from Silicon Valley and tech journalists seem to indicate that, like most of the American people, those who know what's at stake won't ever stop fighting the enemies of net-neutrality.
Las Vegas, I have no words to describe how heartbroken I am. Las Vegas was my college town, it was my home for four years. My heart breaks for you, for the city, for what you're going through.
The deadliest shooting in modern U.S. history with the death toll rising by the hour. It's times like these and tragedies like this that put it all in perspective. Those innocent people at that concert weren't Democrats or Republicans, they were Americans. It's sick and sad some can't see it that way. Like the now former CBS vice president and senior counsel who took to Facebook to say quote: I'm actually not even sympathetic because country music fans often are Republican gun toters."
Listen here Hayley Geftman-Gold, it's those Republican gun-toters who would risk their lives to protect you in any active shooter situation and it's very sad you're too ignorant and hateful to see it that way. You make me sick but you're not the only one.
Last year's failed presidential candidate Hillary Clinton wasted zero time before she made this tragedy into an anti-gun political talking point. First of all Hillary, you have no idea what you're talking about. Second, how dare you. You're going to blame this senseless shooting on the NRA and law-abiding gun owners, really? For what? To advance your own agenda and political aspirations? Do some soul-searching and learn about firearms before you open your mouth.
Kim Jung Un had NO military experience whatsoever before Daddy made him a four-star general.
This snot-nosed twerp had never accomplished anything in his life that would even come close to military leadership.
He hadn't even so much as led a Cub Scout troop, coached a sports team, or commanded a military platoon.
So he is made the "Beloved Leader" Of North Korea.
Terrific!
Oh nuts! I'm sorry…
I just remembered that we did the same thing.
We took an arrogant phony community organizer, who had never worn a uniform, never ran so much as an ice-cream stand, and made him Commander-in-Chief.
A guy, who had never had a real job, worked on a budget, or led anything more than an ACORN demonstration, and we made him "Beloved Leader" of the United States – Twice!
So if you think North Koreans are stupid…
I'm sorry I brought this up….never mind!
The Paris Climate Agreement will cost at least $1 trillion per year, and climate activists say it will save the planet. The truth? It won't do anything for the planet, but it will make everyone poorer–except politicians and environmentalists. Bjorn Lomborg explains.
Can America solve its illegal immigration problem both justly and humanely? Yes, but it requires first building a border wall. Washington Post columnist and Pulitzer Prize-winning author Charles Krauthammer explains why.